Education with Residencies and Fellowships
Whether you're a medical student, resident or fellow, we're committed to furthering your education, interests, and skills in the field of surgery.
The University of Buffalo Department of Surgery is proud to sponsor residencies and fellowships across several surgical specialties. All have been granted accreditation by the necessary agencies (ACGME or Fellowship Council), and are structured so that relevant board requirements can be met for certification. To learn more, please click the links below to visit their individual websites.
For questions regarding the University at Buffalo Department of Surgery, Graduate Medical Education (GME) division, please contact Melissa Beckman at mbeckman@buffalo.edu.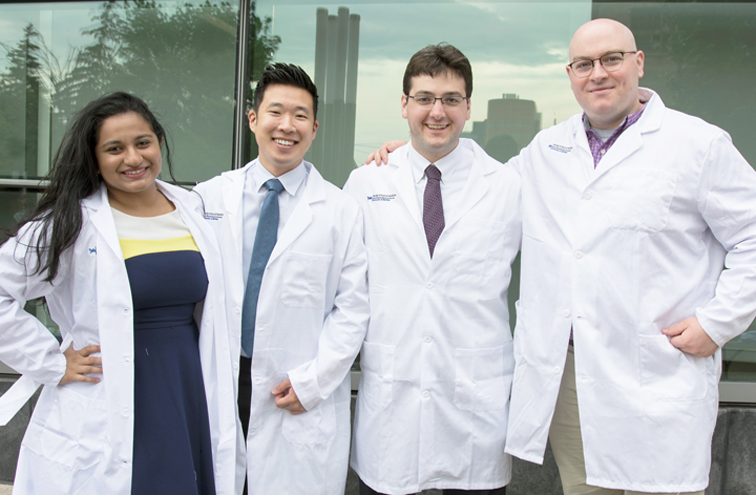 Residencies
General Surgery Residency
http://medicine.buffalo.edu/departments/surgery/education/general-surgery.html
Vascular Surgery Integrated Residency
http://medicine.buffalo.edu/departments/surgery/education/vascular-surgery.html
Fellowships
Advanced GI and Minimally Invasive Surgery Fellowship
http://medicine.buffalo.edu/departments/surgery/education/fellowship/advanced-gi-mis.html
Colon and Rectal Surgery Fellowship
http://medicine.buffalo.edu/departments/surgery/education/fellowship/colon-rectal-surgery.html
Pediatric Surgery Fellowship
http://medicine.buffalo.edu/departments/surgery/education/fellowship/pediatric-surgery.html
Surgical Critical Care Fellowship
http://medicine.buffalo.edu/departments/surgery/education/fellowship/critical-care.html
Vascular Surgery Fellowship
http://medicine.buffalo.edu/departments/surgery/education/fellowship/vascular-surgery.html