Pediatric Surgery
The Department of Pediatric Surgery at UBMD Surgery is committed to excellence in teaching, cutting-edge research programs and providing the highest quality of care for the surgical needs of the children of Western New York and the surrounding regions. Our surgeons are Board Certified by the American Board of Surgery in General Surgery and have completed two-year fellowships in Pediatric Surgery. Two of our surgeons have additional credentialing in Surgical Critical Care.
UBMD Surgery provides Pediatric Surgery at John R. Oishei Children's Hospital (OCH), which is the Western New York region's only free-standing children's hospital that provides 24/7 access to pediatric surgical sub-specialists.
Oishei Children's Hospital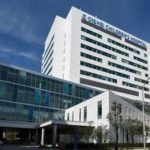 818 Ellicott Street
Buffalo, NY 14203
DIRECTIONS
Oishei Children's Hospital provides specialties including:
Neurosurgery
General Surgery
Ophthalmology
Orthopedics
Otolaryngology
Dental Surgery
Plastic Surgery
Urology
Oishei Children's Hospital is one of only two American College of Surgeons Level 1 Pediatric Trauma Centers in New York State, and we draw trauma patients from western and upstate New York, as well as parts of Pennsylvania.  It contains the region's only Level IV NYS Designation Neonatal Intensive Care Unit, as well as a 20-bed Pediatric Intensive Care Unit.
Our team focuses on providing a broad range of General Surgery care, whenever possible done through minimally invasive approaches ("keyhole surgery"); this results in smaller scars, quicker recovery, and reduced pain. In addition, we have developed a number of multidisciplinary care teams that allow us to provide optimal care for patients with complex conditions. These include a comprehensive wound and burn care center, weight reduction center (Healthy Weigh), vascular anomalies center, thyroid disease team, intestinal rehabilitation centers, and others.
Call for more information or to schedule an appointment with one of our pediatric physicians.
716-859-2700