Trauma Surgery
When a trauma situation occurs, trust UBMD Surgery's Trauma Physician's expertise and excellence in emergency situations. We work directly with Erie County Medical Center, Western New York's designated Level 1 Adult Trauma Center.  ECMC offers a staff of surgeons with expertise of major surgeries, complex procedures, and elective surgeries.
UBMD Surgery's Trauma Surgeons provide life-saving care to our patients.  Our technology, resources, and cutting-edge facilities also help make UBMD Surgery and ECMC your best choice for trauma surgery and care.
Erie County Medical Center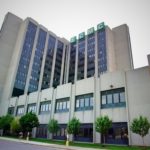 462 Grider Street
Buffalo, NY 14215
DIRECTIONS
Call for more information or to schedule an appointment with one of our physicians.