Breast Surgery
Our team of certified Breast Surgeons focus on the surgical management of both malignant and benign breast disease. This includes procedures such as lumpectomy, skin-sparing mastectomy, nipple-sparing mastectomy and assessment of axillary lymph nodes.  At UBMD Surgery our surgeon's research interests include patient access to care for breast cancer and surgical outcomes.
Office Location:
192 Park Club Lane, Suite 120
Williamsville, NY 14221
DIRECTIONS
Phone: (716) 422-0010
Fax: (716) 422-0018
Monday – Friday:  8:00am – 5:00pm
Hospital Location: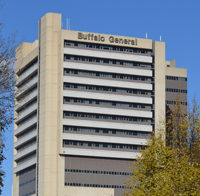 Buffalo General Medical Center
100 High Street
Buffalo, NY 14203
DIRECTIONS
Call to schedule an appointment with one of our breast physicians.
716-422-0010