Thoracic Surgery
Yaron Perry, MD, FACS is the Division Chief of Thoracic Surgery for the University at Buffalo Surgeons. Thoracic Surgery offices are located at Buffalo General Medical Center where Dr. Perry effectively diagnoses, treats, and coordinates care at all stages of the disease process.
Buffalo General Medical Center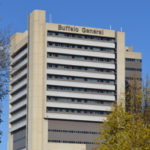 100 High Street
Buffalo, NY 14203
DIRECTIONS
Call for more information or to schedule an appointment with our Thorascic Surgeon.
716-954-0088