Sleeve Gastrectomy
A surgical procedure in which a large portion of the stomach is surgically reduced by approximately 80% of its size along the greater curvature. The result of the surgery is a sleeve or tube-like structure. The sleeve gastrectomy procedure permanently reduces the size of the stomach.

UBMD Surgery provides Sleeve Gastrectomy procedures out of Buffalo General Medical Center.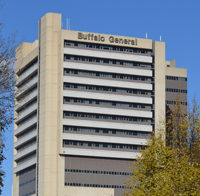 Buffalo General Medical Center
100 High Street
Buffalo, NY 14203
DIRECTIONS
Call for more information or to schedule an appointment with one of our physicians.
716-859-2700