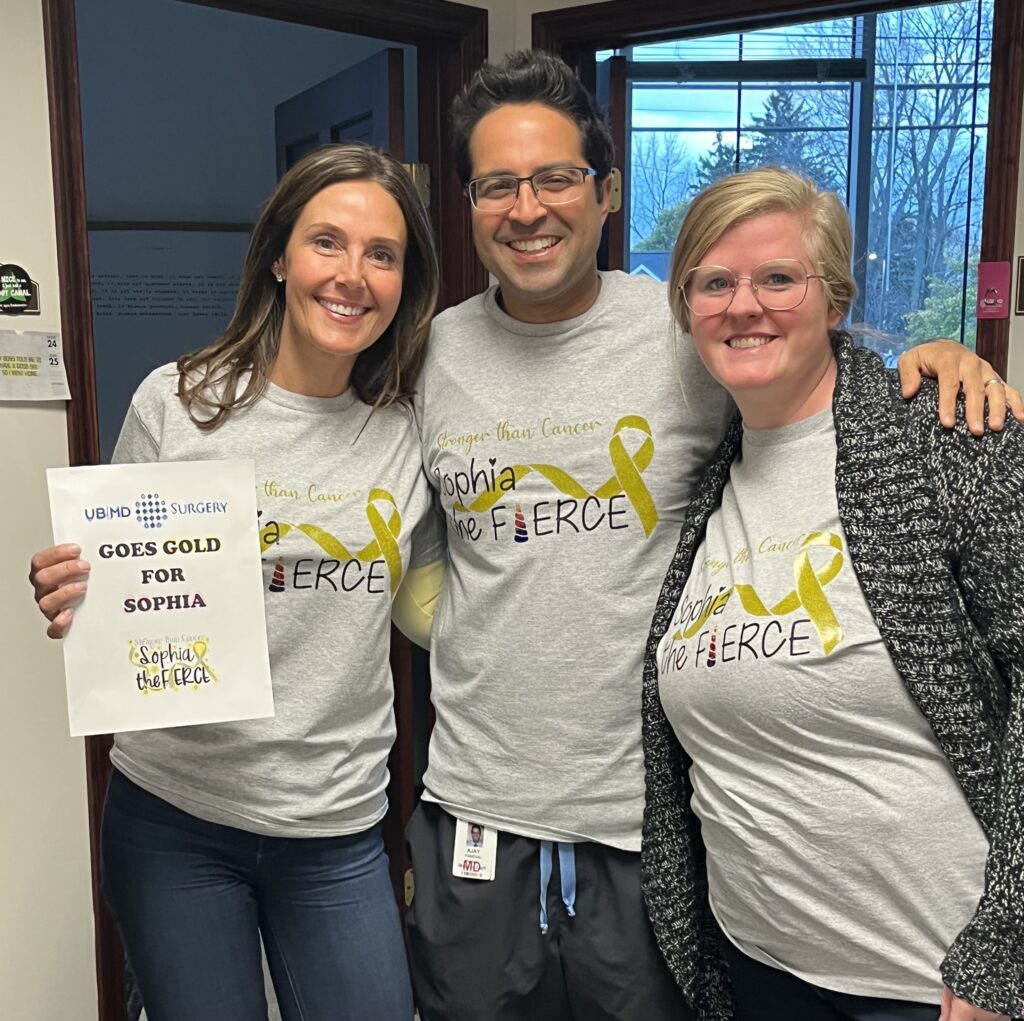 UBMD Surgery Goes Gold for Sophia as they arranged a dress-down day to support "Sophia the Fierce." They raised over $1,000 dollars for the organization that is in place to support her and her family.
Last July was like any other July for seven-year-old Sophia. She was running around playing, about to start the third grade at Country Parkway in Williamsville, when she began to feel a pain in her side. Sophia saw her pediatrician the following day, who sent her for a sonogram, which led to a CT, which revealed tumors on her rib cage and lungs. In a matter of days, Sophia was diagnosed with Ewing's Sarcoma, a very rare and aggressive cancer. She immediately began a treatment plan which included 14 rounds of chemotherapy and 31 rounds of radiation. In Spring of 2022, Sophia was cancer free.
To be safe, Sophia continued daily trips for maintenance chemotherapy and was excited to finish at the end of August 2022. To everyone's heartbreaking surprise, the week of what was supposed to be her last treatment, her scans showed she had relapsed as new tumors in her lungs and surrounding her heart was discovered. With limited treatment options, Sophia began a clinical trial. When the trial was not working as hoped, they quickly shifted to another trial treatment. November 4, Sophia was sent to the emergency room for shortness of breath and they found fluid in her lungs. On November 7, more fluids were found and she was rushed in for intervention and the next steps as she faces this significant battle.
UBMD Surgery arranged a dress-down day to help raise funds to support Sophia and her family in this significant battle. Sophia's parents, Kristina and Rick, are small business owners and have not been able to be at work as they take care of their young daughter. UBMD Surgery worked to raise over $1,000 dollars to donate to the "Sophia the Fierce " organization to help this family in this journey.