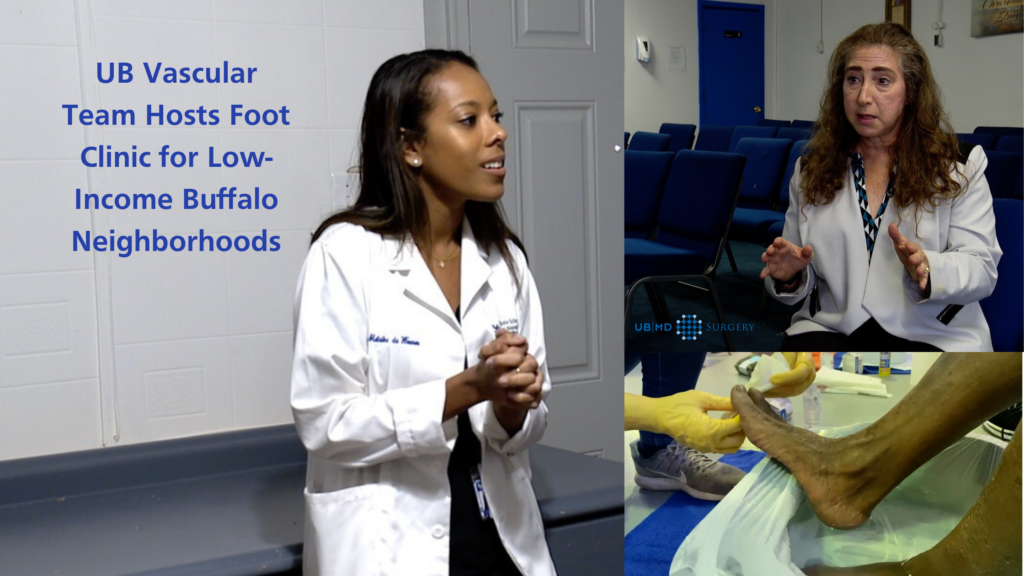 Join Vascular Surgeon Linda Harris, MD, and UB Medical Students for Kickstart Buffalo Foot Clinic on Saturday, October 29th from 11 AM – 2 PM at St. James House of Prayers on Michigan Avenue. This effort is to help the city's low-income community who suffer from poor foot care.
The pastor of the church, Larry Daniel, came up with the idea, realizing there was a very strong need in his church community and neighborhood.
Community members who "have any concerns, if they are having pain in their legs or feet if they have sores on their feet that aren't healing. If they have pain when they walk or pain at night in the legs or feet they should be coming in," explained Dr. Harris. She continued to explain that African American men have a five times higher likelihood of amputation due to peripheral arterial disease.
UB Medical Students and UB Surgeons are trying to bridge the gap by hosting medical outreach events. This clinic is free to attend and no health insurance is required. UB hopes to offer these foot clinics every few months throughout the community.
"Even if you want a foot cleaning and you're not really sure whether or not you have any issues that require a referral, I still think it's important to come in — have them take a look at your feet," said De Weever, UB Medical Student.
Read the complete article on WKBW: https://www.wkbw.com/lifestyle/health/free-foot-clinic-to-help-with-health-inequity-in-buffalo-neighborhoods