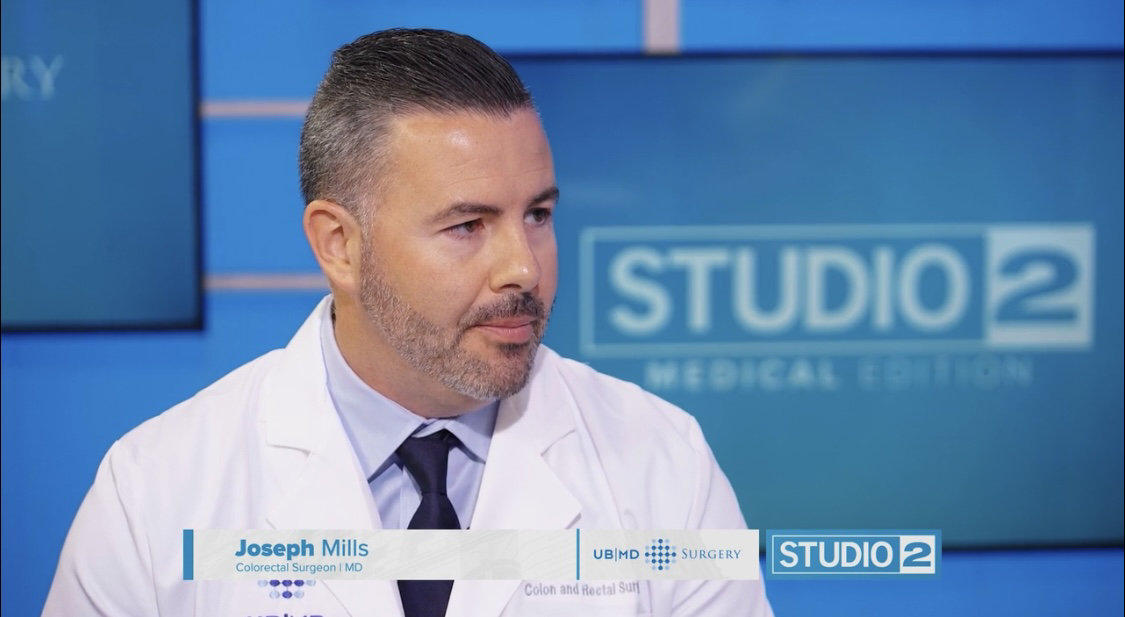 Studio 2 Medical Edition sponsored by UBMD sat down with Dr. Joseph Mills to discuss anal cancer – who is at risk, symptoms, and prevention. Dr. Mills is a colorectal surgeon with UBMD Surgery. He is trained in minimally invasive robotic and laparoscopic surgery, endoscopy, and endoscopic procedures – specializing in colon, rectal, anal cancer, inflammatory bowel disease, diverticulitis, hemorrhoids, anal fistulas, and fissures.
According to the American Cancer Society, in 2023 there were about 9,760 new cases of anal cancer in the United States. A fairly rare cancer, the number of cases has been rising for many years. When it comes to people at risk of developing anal cancer, the most prevalent population are people living with HIV and those who have had a history of cervical, vaginal, or vulvar dysplasia or cancer. Anal cancer affects mainly older adults with an average age being in the early 60s.
There are two main symptoms to be on alert for regarding anal cancer: rectal bleeding or a change in bowel habits. It is important to be seen by a doctor if one experiences any sort of rectal bleeding or discharge, a change in bowel habits, or any other abnormalities that can arise near the anal canal.
There are many things one can do to prevent anal cancer such as staying up-to-date on vaccinations, safe sexual practices, and prophylactic condoms.
For more information about anal cancer and how Dr. Mills and UBMD Surgery can assist you, please visit https://ubmdsurgery.com/colorectal-surgery/
Click here to watch the Studio 2 Medical Edition: Anal Cancer interview with Dr. Joseph Mills.