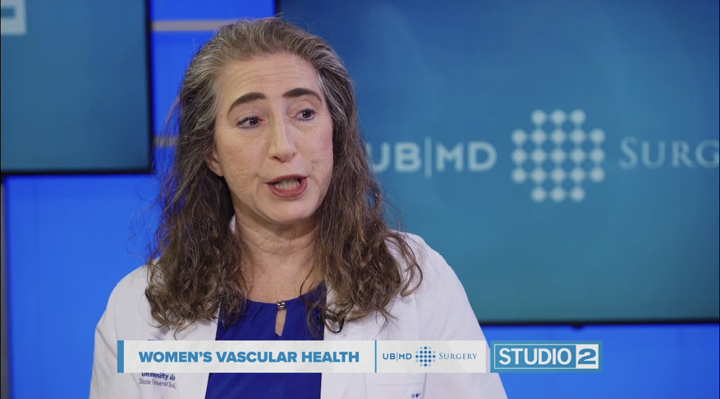 Studio 2 Medical Edition sponsored by UBMD sat down with Dr. Linda Harris to discuss Women's Vascular Health. Dr. Harris is the Program Director for the Vascular Fellowship and Vascular Residency Programs at UBMD Surgery. She is board certified by the American Board of Surgery in vascular and general surgery, specializing in minimally invasive endovascular, hybrid, as well as complex open vascular surgery in aortic aneurysms, peripheral arterial disease, and carotid artery disease.
One in five women will have a stroke during her lifetime, while 60% of stroke-related deaths are in women. Women will have all of the classic symptoms related to stroke – sudden numbness or weakness in the face, arm, or leg, sudden confusion, trouble speaking, sudden trouble seeing in one or both eyes, sudden trouble walking, dizziness, loss of balance, or lack of coordination. However, women are also more likely to have migraines or a headache with a stroke, or a change in the level of consciousness.
An aneurysm is an abnormal swelling or bulge in the wall of a blood vessel, such as an artery. They can occur anywhere throughout the circulatory system, but most commonly develop along the aorta and in blood vessels of the brain. Aneurysms differ in men and women. Women tend to rupture aneurysms at a smaller size, and they can grow more rapidly.
It is important for women to see a vascular surgeon if they are experiencing any sort of vascular problem.
For more information on women's vascular health, please visit https://ubmdsurgery.com/vascular-surgery/
Click here to watch the Studio 2 Medical Edition: women's Vascular Health interview with Dr. Linda Harris