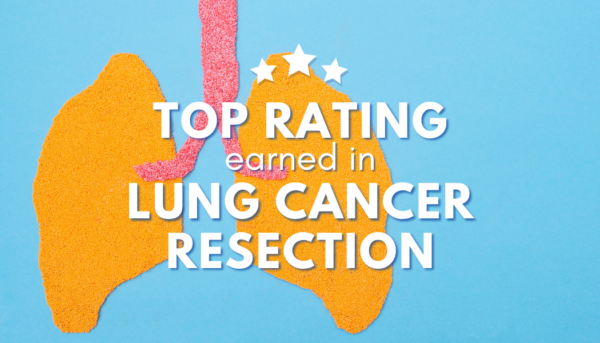 Just 3 years since its inception, the UB Department of Thoracic Surgery earned a noteworthy three-star top rating in Lung Cancer Resections from the Society of Thoracic Surgeons (STS). The ratings are based on patient care and outcomes of the most recent general thoracic surgery database. A three-star rating is the maximum score, signifying the highest quality outcomes and places the Thoracic Surgery Team in the top tier of teams for Lung Cancer Resection.
"Participants in STS are highly specialized, so the high ranking is something we are especially proud of," said Yaron Perry, MD, FACS, thoracic surgeon and Division Chief of Thoracic Surgery at the University at Buffalo. "Everything is transparent. The data helps us get a better understanding of how we can perform better."
Historically, very few general thoracic surgery centers nationwide achieve this distinction with only about 13 percent of participants receiving the STS three-star rating for lung cancer resection.
The STS General Thoracic Surgery Database (GTSD) is a true clinical benchmark, allowing hospitals and CT surgeons to identify best practices and potential gaps, and evaluate their performance against national and regional competitors. The GTSD contains nearly 700,000 general thoracic surgery procedure records and includes about 1,000 participating surgeons. Participating physicians report 11 quality measures related to operative mortality, 30-day outcome, major morbidity, and other quality measures. STS issues star ratings based on whether participants perform better, worse, or as expected.
Yaron Perry, MD, FACS joined UBMD Surgery from University Hospitals in Cleveland where he developed and directed the minimally invasive robotic surgery program to treat chest and gastroesophageal conditions and malignancies. Dr. Perry has an office located at Buffalo General Medical Center, where patients receive minimally invasive surgery with innovative and personal care for lung and esophageal cancer as well as other benign and malignant thoracic conditions. Dr. Perry is board-certified in General and Thoracic Surgery. Dr. Perry and UBMD Surgery are proud partners with Great Lakes Cancer Care Collaborative.
About Great Lakes Cancer Care Collaborative (GLCCC)
GLCCC partners take a multidisciplinary approach to treating cancer including surgeons, medical and radiation oncologists, diagnostic radiologists, and other cancer specialists, as well as medical imaging, dermatology, urology, and gastroenterology practices. Together, the partners create individualized treatment plans for each patient to ensure the best possible outcome.
Members of the collaborative include Cancer Care of Western New York; ECMC; Gastroenterology Associates, LLP; General Physician, PC; Great Lakes Medical Imaging; Kaleida Health; Niagara Dermatology; UBMD Physicians Group; Western New York Urology; Windsong; and Visiting Nursing Association of Western New York.