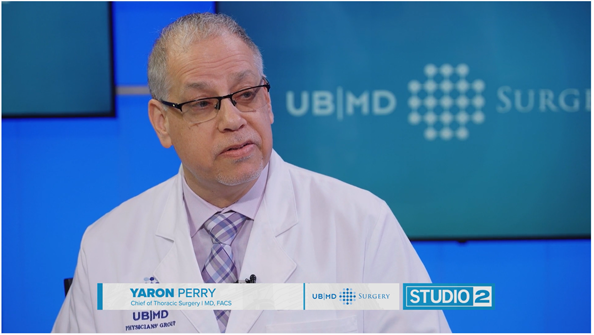 Studio 2 Medical Edition sponsored by UBMD sat down with Dr. Yaron Perry to discuss esophageal cancer. Dr. Perry is the Chief of Thoracic Surgery with UBMD Surgery. He is board certified in General and Thoracic Surgery and is located at Buffalo General Medical Center where patients receive minimally invasive surgery with innovative and personal care for lung and esophageal cancer.
The incidence of esophageal cancer is rising and it is estimated that there are going to be more than 220,000 new esophageal cancer patients in the United States in 2023. There are a variety of risk factors when it comes to esophageal cancer – primarily men over the age of 45 who are obese, heavy smokers, and drinkers. It is also linked to gastroesophageal reflux disease (GERD). When a person has GERD long-term, it is important to be checked because the best way to cure esophageal cancer is to find it early.
According to the American Cancer Society, the most common symptoms of esophageal cancer are trouble swallowing, chest pain, weight loss, chronic cough, vomiting, and bleeding into the esophagus. It is important that one seek a healthcare provider if any of these symptoms are present.
To learn more about esophageal cancer and how UBMD Surgery can help, please visit https://ubmdsurgery.com/thoracic-surgery/
Click here to watch the Studio 2 Medical Edition: Esophageal Cancer interview with Dr. Yaron Perry