CareConnect Telemedicine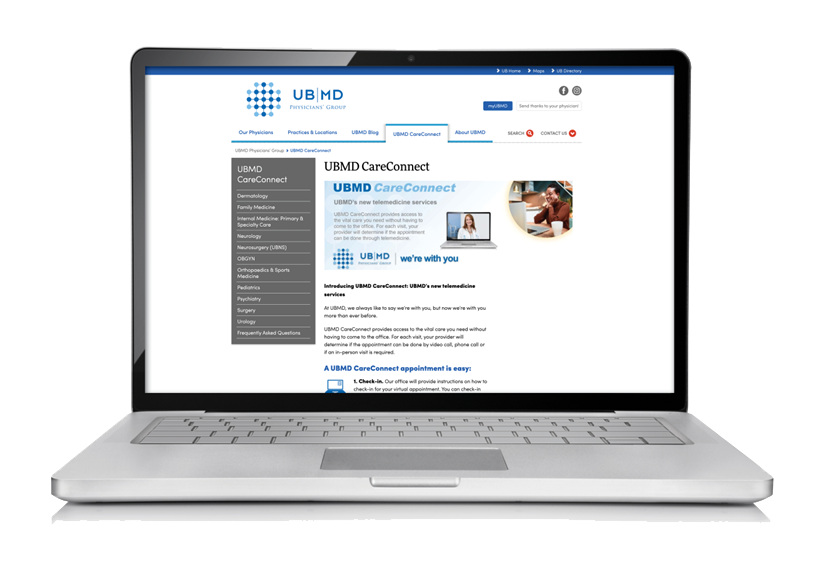 UBMD Surgery is committed to providing quality care to its patients, families, and caregivers by minimizing risks whenever possible. As this pandemic continues to evolve the safety and well- being of our patients, staff, and surgeons remains our top priority. We will continue to provide safe, efficient, and equitable options to those who seek surgical consultation and/or follow up. Our specialists have implemented UBMD CareConnect, telemedicine to best serve you in these times of social distancing.
Through UBMD CareConnect, our patients receive the care they need without coming to the office, including for routine visits and follow-ups.  With a UBMD CareConnect appointment, you can see your provider from the safety and comfort of your home.
Our team is prepared to walk you through the easy-to-use process, answer any questions you may have, and ensure you're ready and comfortable before your appointment.
To learn more about the telemedicine options available to you please call the office of your desired physician directly. While we are committed to reducing exposure by limiting face to face appointments, our team recognizes the need for traditional office visits for patients requiring immediate assistance.
In-Office Care
Our offices are open and able to see you. We're following all CDC and Department of Health guidelines for cleaning and social distancing.  Read more about the steps UBMD takes to safeguard in-person care.
Through both telemedicine and in-office care, all of our UBMD outpatient practices are here for you, providing care to those parts of the UBMD family and those who may need us for the first time.
In a time full of uncertainty, know we're committed to being your one source for comprehensive primary and specialty care in the safest environment for you.
For more information please give us a call.
716-859-2700
We can all contribute to flattening the curve by following the guidelines set forth by the CDC. Together we will get through this.  From our family to yours…Stay Safe. Stay Healthy. Stay Home.  And if you need care, we're here for you – in our offices, in the hospitals, and in your home with UBMD CareConnect.
For more information about UBMD CareConnect, visit  UBMD CareConnect or UBMD Physician's blog post.