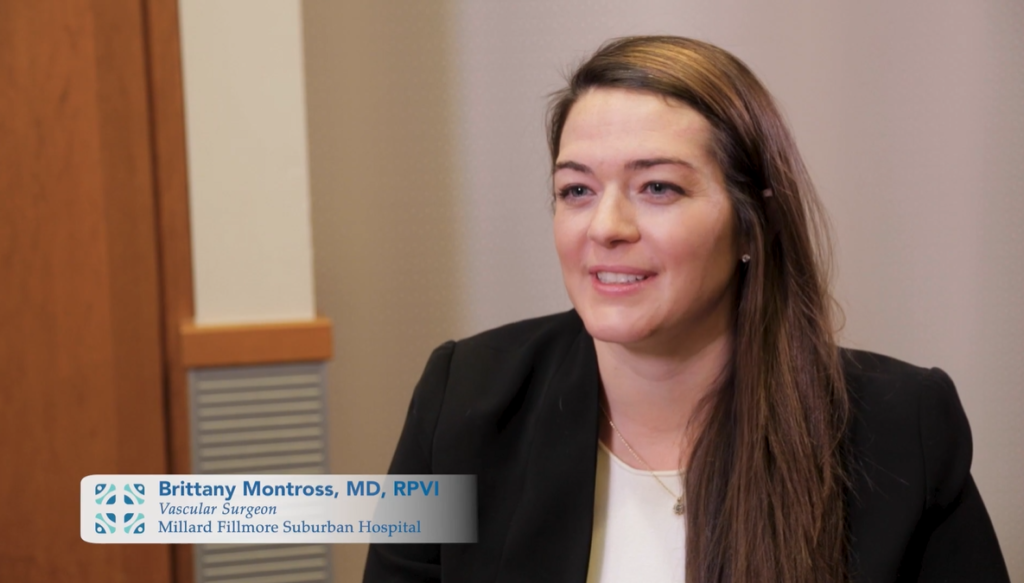 Spend a Vascular Disease Medical Minute with Kaleida Health. Brittany Montross, MD, RPVI, is a vascular surgeon with Kaleida Health and UBMD Surgery at Millard Fillmore Suburban Hospital.
Vascular disease can have anything to do with blood vessels, arteries, and veins. As a vascular surgeon, we operate on any arteries outside of the heart or the brain. Symptoms of vascular disease can be very broad and depend on the area of the body we are talking about.
Vascular disease symptoms could include:
Leg swelling
Pain while walking
Sores on your feet
Abdominal pain
If you are unsure of the cause of your symptoms, you should call to schedule an appointment to see what is going on.
Many advancements in Vascular Surgery have been made over the last several years. A lot of the surgery is now done minimally invasively versus having to do a large open abdominal surgery or an open bypass surgery.
At Milliard Fillmore Suburban Hospital, we are trying to extend vascular surgery coverage to people in the Northtowns and make it more accessible for them. We are here to offer great vascular surgery care.