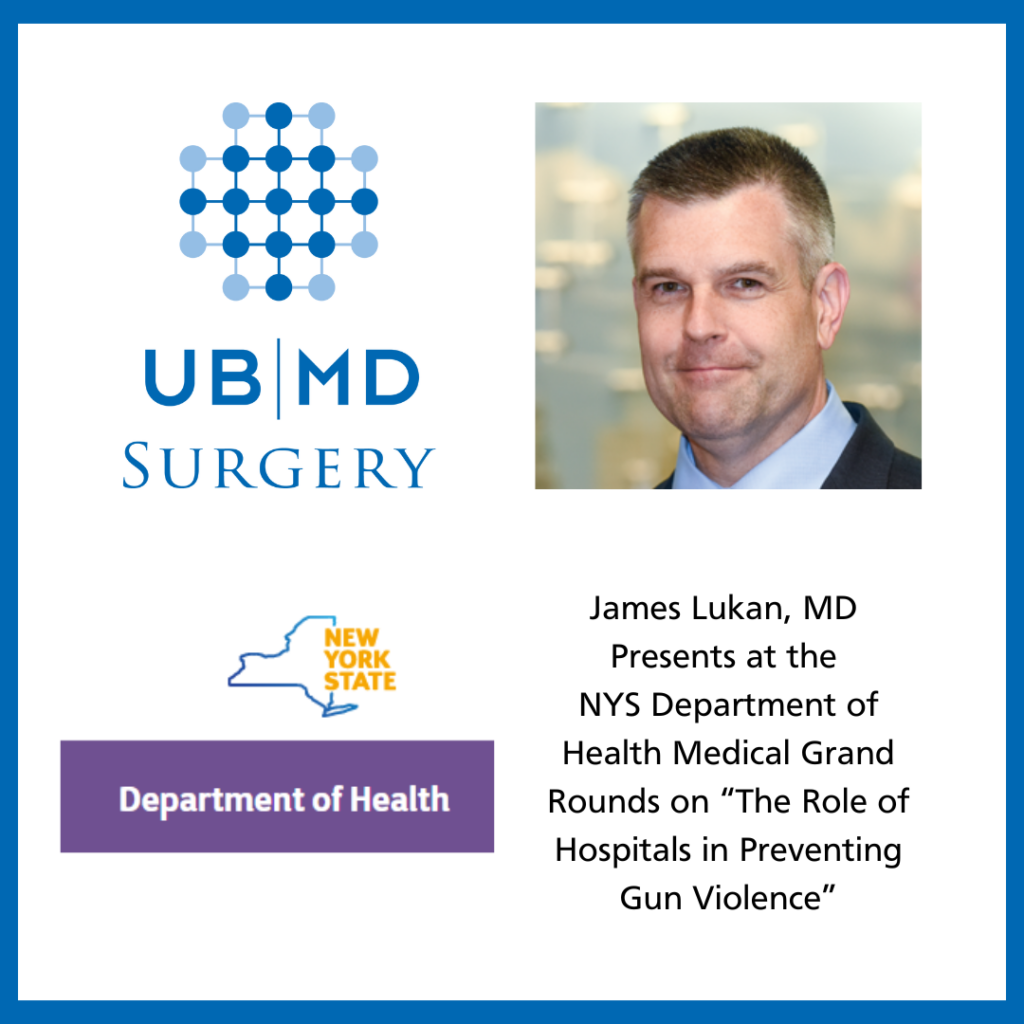 In New York and across the nation, gun violence is a major public health problem and the leading cause of premature death. Gun violence can be prevented through a comprehensive public health approach that keeps families and communities safe. James Lukan, MD spoke at the New York State Department of Health and Medical Grand Rounds on "The Role of Hospitals in Preventing Gun Violence." He has worked with Paula Kovanic-Spiro, Director of Buffalo Rising Against Violence (BRAVE) at ECME, and hospital leadership to allow organizations inside the hospital so they can begin working immediately to prevent future violence.
Lukan explained, "We know that a significant number of these victims will come back with another gunshot wound within a year. After a gunshot, a pattern of retribution occurs. If someone gets shot, then they find out who did it and there's retaliation with more violence. SNUG (Buffalo Should Never Use Guns) and BRAVE get involved in the immediate aftermath. They try and calm the environment, and teach conflict resolution, all aimed at trying to avoid that secondary process. Further, they help navigate the hospital system and create positive outcomes from what would otherwise be a very negative event."
SNUG and BRAVE help connect victims of gun violence with the services and support they need so that they do not return to the hospital as a victim again or end up as a perpetrator.
Dr. Lukan's presentation at the Grand Rounds discussed how he is working with these groups and others to extend the reach of services that address gun violence and try to prevent it before it happens by reaching out to children and youths at risk. Groups like SNUG and BRAVE are a key part of addressing gun violence. "We call them credible messengers," Dr. Lukan states, "because they were once themselves victims of these cycles of violence, but found their way out, now returning to help others in the same situation."
James Lukan, MD is the Director of Vascular Services at Erie County Medical Center, Attending Staff Surgeon at ECMC, Clinical Associate Professor for UBMD Surgery, and Program Director for the General Surgery Residency Program at the University at Buffalo. Lukan joined UMBD Surgery in 2004. He is board certified by the American Board of Surgery for General Surgery, Surgical Critical Care, and Vascular Surgery. He is certified in Advanced Cardiac Life Support, Advanced Burn Life Support, Advanced Trauma Life Support, and Advanced Trauma Life Support Instructor.