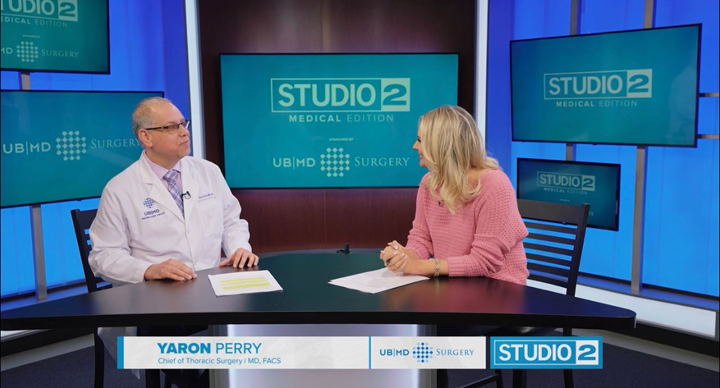 Studio 2 Medical Edition sponsored by UBMD sat down with Dr. Yaron Perry to discuss Esophageal Cancer Awareness Month. Dr. Perry is the Chief of Thoracic Surgery with UBMD Surgery. He is board certified in General and Thoracic Surgery and is located at Buffalo General Medical Center where patients receive minimally invasive surgery with innovative and personal care for lung and esophageal cancer.
April is Esophageal Cancer Awareness Month. Esophageal cancer is a disease in which malignant cells form in the tissues of the esophagus. Men over the age of 45 are at the highest risk for esophageal cancer; however, there are a number of risk factors including obesity, smoking, and heavy drinking. Long-term gastroesophageal reflux disease (GERD) increases a patient's risk of developing esophageal cancer.
It is important to talk to your doctor and get checked if a person thinks they may be at risk for esophageal cancer. Finding it early is the best way to ensure a cure.
For more information, please visit https://ubmdsurgery.com/thoracic-surgery/.
Click here to watch the Atudio 2 Medical Edition: Esophageal Cancer Awareness Month with Dr. Yaron Perry