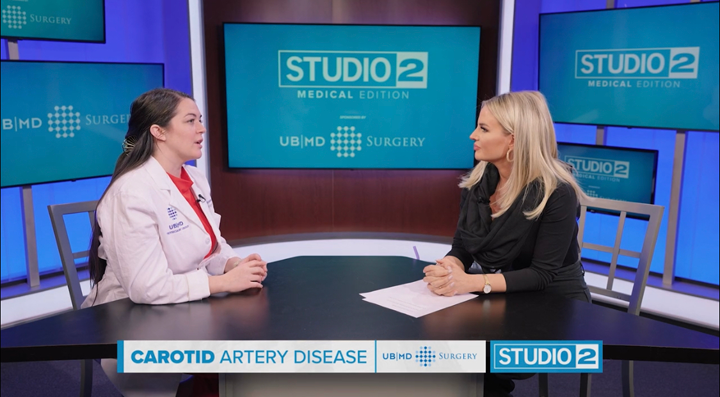 Studio 2 Medical Edition sponsored by UBMD sat down with Dr. Brittany Montross to discuss carotid artery disease. Dr. Montross is a Clinical Assistant Professor of Vascular Surgery for UBMD Surgery, and is involved in teaching medical students, residents, as well as vascular fellows, so future vascular patients receive the highest level of care.
Carotid artery disease is the buildup of plaque in the blood vessels in the neck. As plaque builds up, it puts a person at risk for stroke. There are many risk factors for carotid artery disease including high blood pressure, high cholesterol, obesity, diabetes, and smoking.
There are a variety of treatment options for carotid artery disease including medical management, open surgery, and stenting. Stenting is a minimally invasive procedure where a wire mesh tube is inserted into an artery to help keep the artery open. There are two main types of stents: bare metal and drug-eluting – which are coated with medication that reduces the risk of the artery becoming blocked again.
If someone is concerned that they may be at risk for carotid artery disease, Dr. Montross' office is able to do a noninvasive screening in her office with an ultrasound.
For more information on carotid artery disease and the work Dr. Montross is doing, please visit https://ubmdsurgery.com/vascular-surgery/
Click here to watch the Studio 2 Medical Edition: Carotid Artery Disease interview with Dr. Brittany Montross