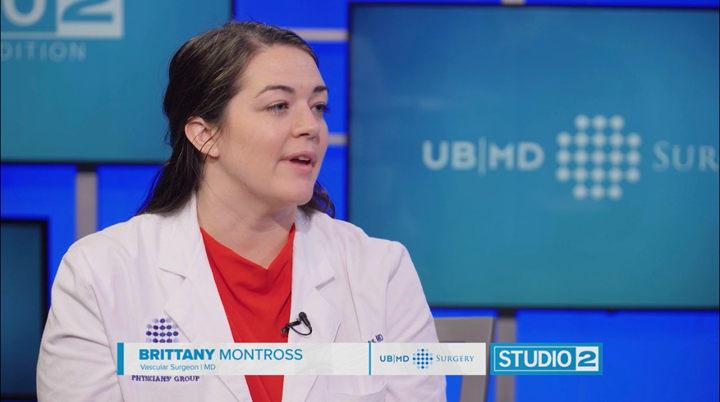 Studio 2 Medical Edition sponsored by UBMD sat down with Dr. Brittany Montross to discuss dialysis. Dr. Montross is a Clinical Assistant Professor of Vascular Surgery for UBMD Surgery and is involved in teaching medical students, residents, as well as vascular fellows, so future vascular patients receive the highest level of care.
One in seven Americans has chronic kidney disease, and over 500,000 patients are on hemodialysis – a procedure where a dialysis machine and a special filter called an artificial kidney, or a dialyzer, are used to clean a patient's blood. Dialysis is a treatment to clean a patient's blood when the kidneys are unable to. It helps remove waste and extra fluids in the blood and is used for those who are in end-stage renal failure.
Dr. Montross, like other vascular surgeons, is able to work with a patient's doctor to offer a minimally invasive procedure as opposed to surgery. They use ultrasound and one puncture to create access to viable veins to assist in the cleaning of a patient's blood.
For more information on dialysis and the work Dr. Montross is doing, please visit https://ubmdsurgery.com/vascular-surgery/
Click here to watch the Studio 2 Medical Edition: Dialysis interview with Dr. Brittany Montross