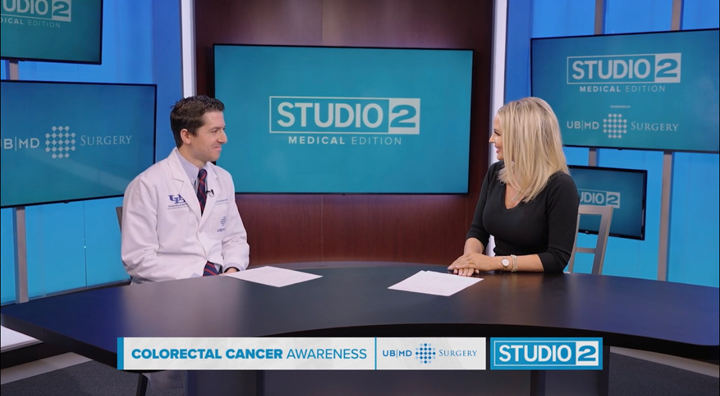 Studio 2 Medical Edition sponsored by UBMD sat down with Dr. John Ortolani to discuss Colorectal Awareness Month. Dr. Ortolani joined the faculty at UBMD Colorectal Surgery in 2017, he specializes in colon and rectal surgery.
March is Colorectal Cancer Awareness Month. Colorectal cancer is the third-most common cancer diagnosed and the second leading cause of cancer death in the United States. Overall, the rate of colon or rectal cancer has steadily decreased over the past couple of decades – except for younger adults. The good news is, it is very treatable and curable when it is detected early.
A majority of cases of colorectal cancer are asymptomatic, meaning they do not show any symptoms. It is important to get screened for any colorectal issues by getting a colonoscopy. A colonoscopy is a procedure where a doctor looks inside the colon and rectum using a colonoscope – a long, flexible tube about the width of a finger with a light and small video camera on the end. It is important to get a colonoscopy to detect any abnormalities in the colon and rectum.
For more information on colorectal health, please visit https://ubmdsurgery.com/colorectal-surgery/.
Click here to watch the Studio 2 Medical Edition: Colorectal Awareness Month interview with Dr. John Ortolani.