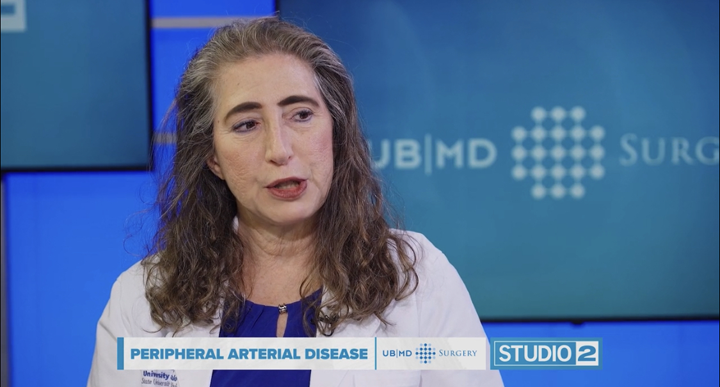 Studio 2 Medical Edition sponsored by UBMD sat down with Dr. Linda Harris to discuss Peripheral Arterial Disease, also known as Vascular PAD. Dr. Harris is the Program Director for the Vascular Fellowship and Vascular Residency Programs at UBMD Surgery. She is board certified by the American Board of Surgery in vascular and general surgery, specializing in minimally invasive endovascular, hybrid, as well as complex open vascular surgery in aortic aneurysms, peripheral arterial disease, and carotid artery disease.
Peripheral arterial disease is the narrowing or blockage of the vessels that carry blood from the heart to the legs. It is primarily caused by the buildup of fatty plaque in the arteries, which is called atherosclerosis.
Men and women present differently when it comes to peripheral arterial disease. Women often do not recognize that they have a problem because they typically have no symptoms or atypical symptoms. They may have an issue where they can't walk as rapidly, then have cramps, or may have tiredness or numbness in their legs. It is important for men and women to get checked if any sort of symptom – atypical or not – presents itself.
For more information on peripheral arterial disease, please visit https://ubmdsurgery.com/vascular-surgery/
Click here to watch the Studio 2 Medical Edition: Peripheral Arterial Disease interview with Dr. Linda Harris