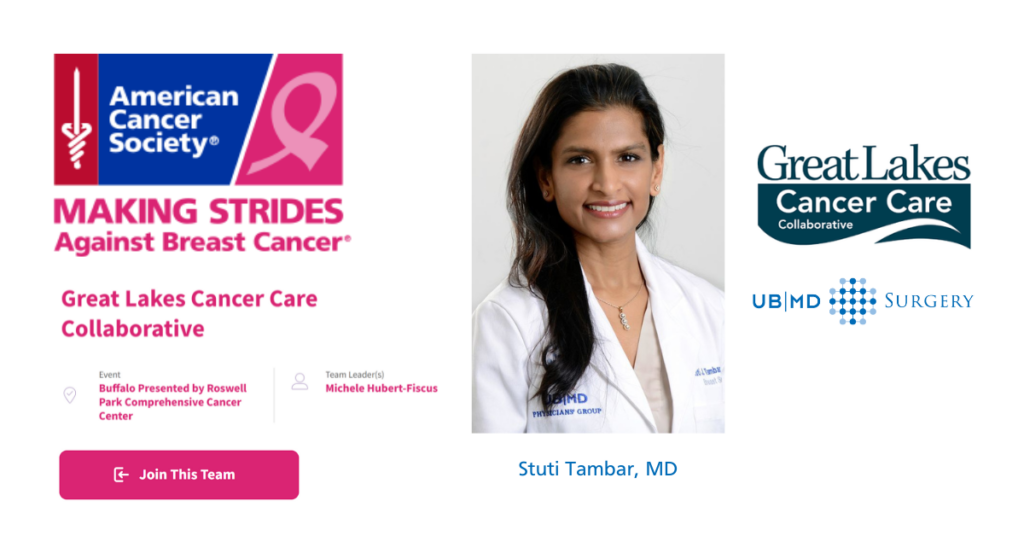 Join Dr. Stuti Tambar, Breast Surgeon with UBMD Surgery, and the Great Lakes Cancer Care Collaborative (GLCCC) team for the Making Strides Against Breast Cancer walk.  This year's walk will take place on Saturday, October 22nd at the Outer Harbor, 225 Fuhrmann Boulevard, Buffalo, NY 14203.
While this particular walk raises funds that support breast cancer patients, survivors, and caregivers, the American Cancer Society has been very supportive of Great Lakes Cancer Care Collaborative's efforts to provide access to care for our patients in the community.  The American Cancer Society has helped support GLCCC through grants, services, and providing valuable resources about cancer prevention and screenings.
Even though everyone has their own reasons for joining Making Strides, everyone is in it together to take down breast cancer. Great Lakes Cancer Care Collaborative is fundraising for the American Cancer Society's support services and lifesaving research.
Every dollar really does count. Please donate or join GLCCC's team to help end breast cancer.
Click the link below for more information. Share and encourage others to join.