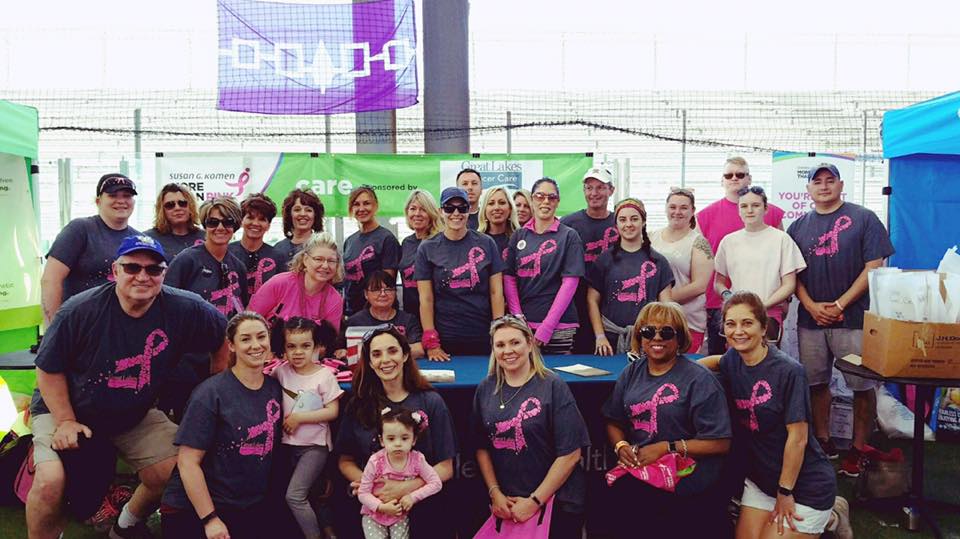 Great Lakes Cancer Center formed a team for the Susan G. Komen More than PINK Western New York race and included members from Kaleida Health, ECMC, and UBMD Surgery.  On June 8th, team members gathered at Buffalo RiverWorks, with a common goal, to end breast cancer forever.
Team Great Lakes Cancer Center had 49 participants on the day of the event and raised a combined total of $2,760.80 for Susan G. Komen More than PINK Western New York.
Western New York had over 2,100 people attended the June 8th event and raised over $250,000 total!
Susan G. Komen Upstate New York published a video recapping the excitement from the day of the event.  The video highlights participants of all ages, including survivors of breast cancer, supporters of friends, and some are there annually there to suppose their loved ones who lost their fight with breast cancer.
Dr. Meeghan Lautner, Breast Surgeon with UBMD Surgery, and member of Great Lakes Cancer Care were interviewed with a patient and 8-year survivor from the Great Lakes Cancer Care Clinic.
For survivors, the Susan G. Komen Breast Cancer walk is more of a celebration than anything.  On June 8, 2019, Western New York become More Than PINK!
View Great Lakes Cancer Care's photos from the event on Facebook here: https://www.facebook.com/pg/UBMDsurgery/photos/
Watch Susan G. Komen Upstate New York's video here: https://youtu.be/1lKxr5PlvO8