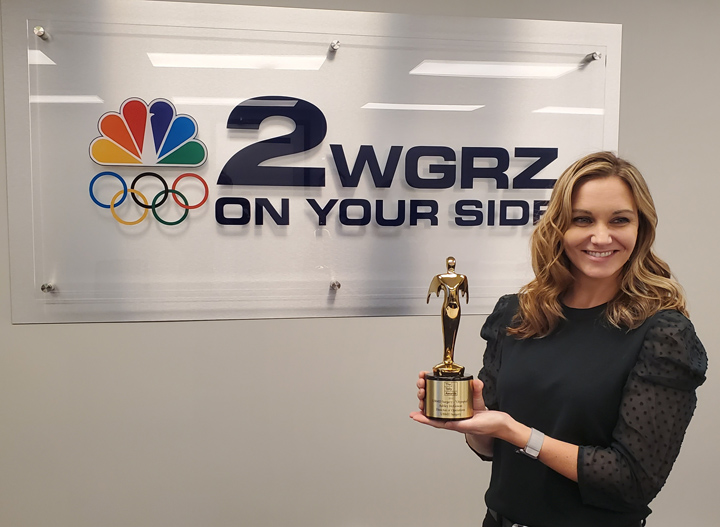 UBMD Surgery would like to formally announce and congratulate Ashley McGowan, our Director of Clinical Operations, along with the WGRZ Creative team for being awarded a Gold Telly Award for her role in producing the UBMD Surgery award-winning TV commercial which aired during the last Olympics.
The Telly Award is the world's largest honor for video and television content across all screens and Gold is the ultimate level of achievement. Ashley's achievement is noteworthy as WGRZ has never won a Gold Telly award, having won many silver and bronze awards over the years. This honor is quite rare even among large international organizations, entrants come from all 50 states and 5 continents including over 11,000 entrants annually. Ashley's work shines a light on our practice which is quite a rare honor. Congratulations on the high honor of your work, Ashley! Thank you for helping to produce a UBMD Surgery award-winning TV commercial.
From the Telly Awards website:
The Telly Awards was founded in 1979 to honor excellence in local, regional, and cable television commercials with non-broadcast video and television programming added soon after.
The Telly Awards annually showcases the best work created within television and across video, for all screens. Receiving over 11,000 entries from all 50 states and 5 continents, Telly Award winners represent work from some of the most respected advertising agencies, television stations, production companies, and publishers from around the world. The Telly Awards recognizes work that has been created on behalf of a client, for a specific brand and/or company (including your own), or self-directed as a creative endeavor.
Previous Telly Award Winners:
AOL Studios, BET Networks, Bloomberg, CBS Interactive, Comcast, Conde Nast, DigiDojo, Discovery Communications, ESPN, FleishmanHillard, Fox, HBO, Hearst, HOBO, HuffPost, Indigo Films, IW Group, Microsoft, MLB, NBC, Ogilvy and Mather, Refinery29, SapientNitro, Story House, Team Coco Digital, The Guardian, The History Channel, Time Warner, Tiny Hero, Trailer Park, Viacom, VML, WSJ
See the Gold Telly Award-winning UBMD Surgery commercial on the Telly Awards website:  UBMD Surgery- Olympics (tellyawards.com)